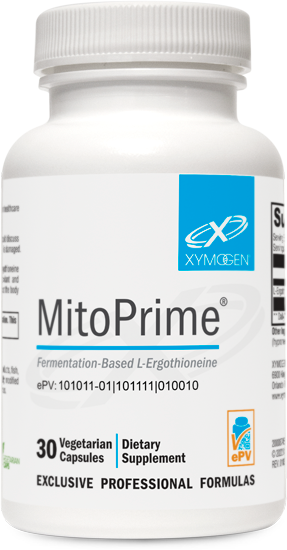 MitoPrime #30 capsules
$37.99
Product Information Sheet – click here

Supports Neurologic and Cognitive Health*
Provides Cellular Antioxidant Support*
Supports Maintenance of Glutathione Levels Already in a Healthy Range*
MitoPrime® features the concentrated form of the histidine derivative L-ergothioneine produced via a proprietary fermentation-based method. Through its antioxidant and cytoprotectant mechanisms, L-ergothioneine combats oxidative stress throughout the body and provides multiple health benefits.*

*These statements have not been evaluated by the Food and Drug Administration. These products are not intended to diagnose, treat, cure, or prevent any disease.

Take one capsule once or twice daily, or use as directed by your healthcare professional.
Description
Only logged in customers who have purchased this product may leave a review.